Considered one of the largest and most unique game areas of its kind in Africa, but the entire world, the Greater Virunga is the protected Area incorporating countries Rwanda, Uganda, and the Democratic Republic of Congo (DRC) into a collaboration in line with the conservation of the Central Albertine Rift Ecosystem. With it home to the remaining mountain gorilla population and regarded as the richest part of Africa in Biodiversity, home to over 5,000 species of mammals (including 27 primates and 40 ungulate species), birds, amphibians, reptiles, and plants, beyond operations is its conservation, a viable concern too. In line with the learning of its operations, challenges, and aspirations, Travel News East Africa's Andrew I Kazibwe sat down with Dr Andrew G. Seguya, the Executive Secretary at the Greater Virunga Transboundary Collaboration (GVTC), an initiative that oversees the welfare of this area.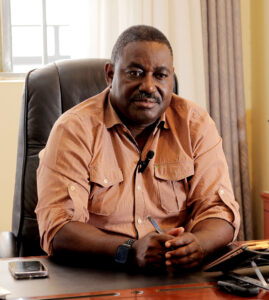 Q: Your entry in in September 2018, was shortly intercepted by the Global COVID-19 pandemic, if you may, how do you measure the effect of this upon the countries under GVTC?
A: For closer to a decade I was part of the GVTC, and I knew the corners and was familiar with the organization since I was on part of GVTC's board as the Uganda Wildlife Authority (UWA)'s Executive Secretary, which is also a partner. But when I came in 2018, we had a lot of hope I took forward that we had in our strategic plan, which is ending this year. It also allowed us to test the systems that had been built over time, and we are happy to report that they came out very successful. Not a single Gorilla was tested for Covid 19; though we had challenges with the communities which were handled by the community health sectors and a few cases within our own Park Rangers, we had very clear methods for dealing with the few positive cases discovered. Well as the pandemic times proved of greater challenge to area authorities since they lost income opportunities; monitoring of Gorillas, and further acquisition of necessary equipment to safeguard the health of Rangers for Gorilla safety, which incurred immense costs, though tourism went down, from the one-health point of view, health facilities closer to us were strengthened, Rangers were trained, and more recruitments done to strengthen the area and communities, so we can now claim that we have processes that can protect animals and the health of Rangers. From a conservation point of view, we came out stronger in that period of adversity.
Q: Without doubt Poaching and encroachment upon the Game Reserves and National parks are possible persistent challenges. With the growing population, which likely sparks encroachment upon wild lands; in line with conservation; what viable solutions do you have in place?
A: We saw an increase in illegal activities across the landscape especially during the pandemic, mostly because people needed to survive, and had lost ways of life, so forests became the last resort for them. We witnessed governments chipping in and providing people with food such that people could stop turning against the wildlife, which helped to control. Alongside that, we are yet to generate the actual statistics, which we hope will be released in the next census. Now that the communities stayed home, there is a possibility that there was an effect on population size, but the census will confirm that. This area of the Greater Virunga Landscape remains one of the most densely populated areas on earth, and therefore any increase in population is going to increase the pressure on natural resources. What we have been doing as the landscape is to introduce measures that go beyond typical conservation; there is the one-health concept, and there is the integration with Agriculture. We can not only concentrate on national parks, and hope that the growth in the human population is going to go away, or somehow take care of itself. We have to look at how to work with communities to better their agricultural systems, by seeing to it that production on smaller pieces of land is attained. Unlike before, Conservation goes beyond, working with communities through sensitization.
Qn: With the strategy of sensitization now more evident, and requires more financial muscle, are you well set for it?
A: We are a collaboration agency, so we identify and bring together all those with the necessary resources, and work together to create solutions that will strategically take us. If it is Agriculture; we have to integrate Agricultural Researchers, policymakers, and all those in that sector, to bring the element of conservation to their attention that whatever they do in that field will hold an element of conservation. It's about how to collaborate our resources, to get the best outcomes. So, we stir conversations together to derive shared solutions, since we also have an arm for resource mobilizations, which jointly works out.
Q: Haven't previous political conflicts amongst countries; Rwanda- Uganda, and lately Rwanda-DRC affected the thriving of tourism in the Greater Virunga Transboundary region?
A: There is one aspect that is quite clear to all governments we work with. They are all very aware that the conservation of these resources is very crucial to all of them. The treaty signed in 2015 was very clear, and am sure there was an improvement in the game lives and numbers too as compared to the past. So, the lines of communication and action are always open, since animals like the Gorillas don't have colors, and neither do they have nationality, so they roam across all areas there. Am happy that irrespective of challenges that might exist, the MOU is very clear amongst the three countries, and we have so far encountered no issues as far as the treaty is concerned, for it is being respected. Congo is a little bit dicey because of the conflict that is there; we don't have enough data from there, but we are hoping that while the current insecurity is curbed, and if the forest isn't destroyed in the meantime, we are likely to get a better environment for our animals because of the previous break.
Q; With the GVT home regarded as the richest part of Africa in Biodiversity how is this wealth being leveraged?
A: We have one of the most robust Tourism systems in Gorilla Trekking; With premium products in Rwanda and Uganda, which is well subscribed. With the current processes of SADC and the EAC, we hope for a fix to the Challenges because of security in DRC. Countries have leveraged this product, put it up there as a premium one, and the world has in turn responded positively by consuming it and creating resources not only for national development but also for the communities' social development. Communities are getting a percentage of this tourism income back to them, which is used for health, infrastructure, and education development.
Q; As a professional Veterinary Doctor, mindful of wildlife animals' health too; With the global changes lately; COVID-19 was widely seen as catastrophic, while conservationists referred to it as a blessing in disguise. Was it a relief to wildlife?
A: It was necessary. If you look at the quality of Air abroad, and locally, it improved. Pollution was curbed. With fewer vehicles on the roads and fewer industrial activities across the world, the earth was given time to heal. Dark clouds always have a silver lining. With Covid-19 to have hit, the earth was given time to heal. Our duty now as conservationists, is to look at those benefits that were derived over those two years and try to make sure that we extend them, build them into our systems, and make them permanent for the well-being of what we possess.
Q; What major areas of concern has the Greater Virunga Transboundary Collaboration realized that need the government's attention? 
A: The issue of payment for ecosystem services. For instance; a forest houses animals, which aids in tourism, to create revenue resources. The same forest is sinking in Carbon, so somebody ought to pay for Carbon credits. It is the same forest that also contributes to the creation of rainfall water, which in turn is used for various uses, and the production of electricity, so for every kilowatt of electricity being paid for, a certain percentage will go towards conservation. If these resources weren't conserved, then nothing would be earned from these places. The principle of revenue sharing among the three countries is now stronger but should go beyond just tourism income so that the share should incorporate conservation too. As soon as that is in play, we shall not only have better conservation of resources but also better livelihoods of our communities, since these are better protectors of those protected areas.
End