Ryanair boss Michael O'Leary has said it will take up to six months to refund passengers for flights cancelled because of the coronavirus pandemic.
He told the BBC the airline was struggling to process a backlog of 25 million refunds with reduced staff.
However, he pledged: "If you want a cash refund, you will receive a cash refund."
Ryanair is set to cut 3,000 jobs – 15% of its workforce – as it restructures to cope with the coronavirus crisis.
It said the 3,000 posts under threat were mainly pilot and cabin crew jobs.
There are likely to be pay cuts of up to 20% for remaining staff, the airline added.
Mr O'Leary told the BBC that the planned cuts were "the minimum that we need just to survive the next 12 months".
He said that if a vaccine was not found, "we may have to announce more cuts and deeper cuts in future".
Brian Strutton, the general secretary of pilots' union Balpa, said: "There has been no warning or consultation by Ryanair about the 3,000 potential job losses and this is miserable news for pilots and staff who have taken pay cuts under the government job retention scheme.
"Ryanair seems to have done a U-turn on its ability to weather the Covid storm."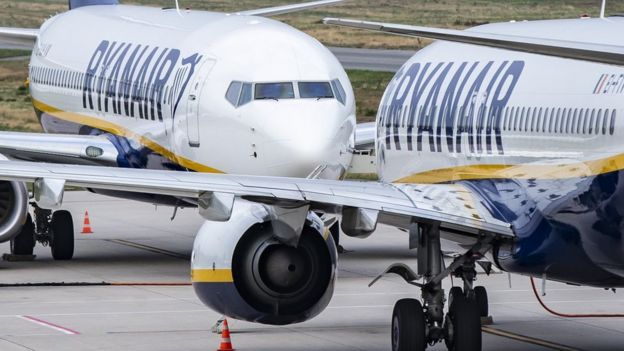 The restructuring could involve closing some UK regional hubs, Mr O'Leary said, but he would not say which ones were at risk.
He said Ryanair hoped to announce details of job losses and pay cuts by 1 July.
Mr O'Leary, whose pay was cut by 50% for April and May, has now agreed to extend it for the remainder of the financial year to March 2021.
Litigation lawyer Jonathan Compton, a partner at law firm DMH Stallard, took issue with the idea that ticket refunds could be delayed.
"Where a flight is cancelled, the legal position is clear, the airline must provide a full refund within seven working days," he said.
"Regulators need to get more active here. The relevant regulator is the Civil Aviation Authority (CAA). The CAA must start instructing airlines to start making refunds, no ifs or buts, and it needs to do this now."
'Subsidy junkies'
Ryanair said it expected to report a net loss of more than €100m (£87m) for the first three months of the year, with further losses in the second quarter.
In a sideswipe at rivals, it said its return to scheduled services would be rendered more difficult by competing with flag carrier airlines, "who will be financing below cost selling with the benefit of over €30bn in unlawful state aid, in breach of both EU state aid and competition rules".
Ryanair said it had entered the coronavirus crisis with reserves of almost €4bn in cash and continued to "actively manage" those resources in order to survive the pandemic.
Mr O'Leary described airlines such as Lufthansa, Air France and Alitalia as "subsidy junkies running around Europe hoovering up state aid".
Flights resuming
Meanwhile, Hungarian low-cost airline Wizz Air is resuming flights from Luton airport starting on Friday, but passengers will be required to wear masks while on board.
The airline is among the first European carriers to begin restoring services that have been suspended because of the coronavirus pandemic.
The flights will be heading for destinations in Spain, Portugal, Israel, Slovakia, Serbia, Romania and Hungary.
But Wizz Air warned that because of "rapid changes in travel restrictions, the list might be adapted".
The move comes despite unchanged advice from the Foreign Office against all foreign non-essential travel.
Heathrow 'robust'
In another development, London's Heathrow airport, normally the busiest in Europe, has said it expects passenger numbers to have fallen 97% in April as demand slumped.
Numbers fell 18.8% to 14.6 million during the first three months of the year, the airport said.
But it added: "Heathrow remains open – and continues operating safely to help people get home and to secure vital supply lines for the UK."
Financially, it was "robust", it said.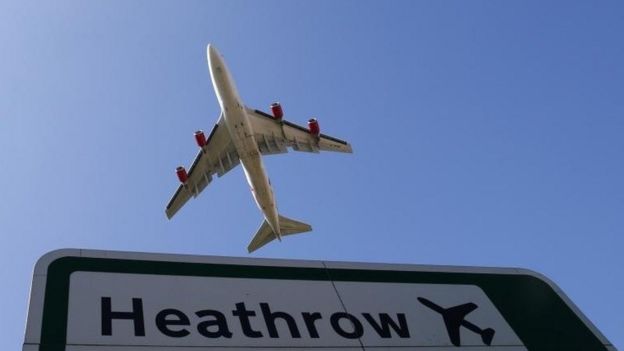 "Heathrow has £3.2bn in liquidity, sufficient to maintain the business at least over the next 12 months, even with no passengers," it added.
Heathrow chief executive John Holland-Kaye told the BBC's Today programme that until a coronavirus vaccine could be developed, airports would have to introduce measures to minimise infection once lockdowns started to ease.
"What this might include – and this needs to be agreed with governments and the aviation sector – is a combination of measures and that might include some kind of health screening as you come into the terminal so that perhaps if that's a temperature check, if you have a high temperature, you may not be allowed to fly," he said.
"As you go through the airport, you will probably be wearing a face mask, as people from Asia have been doing ever since Sars came out."
Source: BBC