The cities of the world have one thing in common; human and motor traffic. Most of us rarely get to choose where we live or work from. But on some days we can decide to at least head out on a weekend or public holiday to breathe different air.
I owed a close friend of mine a visit to Bugesera district, Nyamata town, located in the Eastern province of Rwanda. I also have been defaulting on my physical fitness routines largely due to laziness. A mutual friend, Angello who has also been defaulting on his exercise program suggested we do a walk around Kigali or something longer.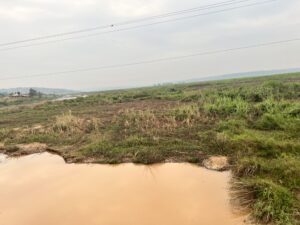 That sounded like a good idea; a trek from Kigali to Bugesera would be a real challenge. As a determined pair, we picked Saturday morning for that exercise. Friday evening was characterized by a series of texts with reminders to set off before the sun had risen.
We agreed to meet at Sports View Hotel, Kicukiro, Kigali. A call was exchanged at 05:32am to assess our situation and readiness, 05:45am we began our walk to freedom!
What you need
A walking stick for beginners, a water bottle, and comfortable sports gear especially shoes. A waist strap bag or backpack to keep a water bottle and phone is recommended. Walking on the left side of the paved roads is a good thing as you see oncoming traffic, just in case!
Being a weekend, there is less traffic. The rising Sun and cool weather make it a conducive environment to exercise. We slotted in a 5 to 10-minute jog after ascending the Nobleza – Nyanza stretch. The following Nyanza – Gahanga stretch is a great even area for a quick-paced walk. Along the way, you experience the early morning hustles of citizens as they go about their routines.
We met a motivated mother with a child rushing to open their grocery shop. A moto rider dusting and cleaning their bike for the new day's work. A group of causal laborers assembled at a construction site with their tools. There is a fascinating fresh food market at Gahanga with all varieties of vegetables, fruits, meats, and cereals.
The undulating views
Just right after Gahanga township on the left side of the road, there are virgin grounds of low-lying gardens stretching into the yonder land. With the morning dusk and clear skies, you can see 40 kilometers plus to the eastern horizon. The new Bugesera international airport is half visible with construction in progress, earth soil piles.
The roadside pavements and walls are meticulously designed with green and wire meshes. The beauty and complex look of these well-made road walkways make Rwanda one of the cleanest and greenest countries in Africa.
The undulating slope leads to the magnificent River Nyabarongo with numerous tributaries, lagoons, and sugar cane plantations. The highlight infrastructure is an iconic dual carriage bridge that is also the boundary of the Kicukiro and Bugesera districts.
A stopover on the Nyabarongo Bridge is a must-do to soak in the majestic view of the water.
By now the water bottle carried is almost empty. Just after the bridge are shops and restaurants to catch a quick refill of snacks. Next is a brace for the next hill climb into Bugesera leading to the Summer Palace children's play park and Roba industries.
It's now 08:21am and we are on the diversion section to the Ntarama memorial site from the main road. We decide to continue ahead and rest at the big Golden Tulip Hotel Nyamata. This modern hotel has all facilities needed for a good breakfast meal and a swimming pool.
The distance covered according to our workout apps is 20.3 kilometers! This is legendary by all means for two amateurs and perennial defaulters of routine exercises!
We are doing this again and maybe you can be inspired to join the Kigali freedom walks. Different routes are being surveyed to add on existing Kigali car-free days. This time we are infusing personal experiences, new places, and treks to challenge ourselves on what we can achieve.
Article By Andrew Busingye
End