BY: Ryan Truscott | Mongabay
The endangered golden-rumped elephant shrew has seen its population in a Kenyan forest reserve increase by 52% in a decade, upending researchers' fears of extinction due to hunting and habitat loss.
The latest population survey credits the rabbit-sized mammal's high adaptability to human-disturbed landscapes, including plantations of exotic tree species.
They also appear to be thriving amid Kenya's long-running drought, which has caused trees to shed their leaves in large volumes, thus creating the thick carpets of leaf litter that are the animal's favored habitat.
Researchers say the increase may also reflect the gains made by conservation measures within the forest reserve, including a community-based conservation system known as participatory forest management (PFM) that has the support of NGOs and the government.
A population of endangered elephant shrews has rebounded in a threatened coastal forest reserve in Kenya, suggesting the rabbit-sized mammals with endearingly long snouts could be adapting to both human disturbance and drought, researchers say.
Rael Ondoro, a Kenyan-trained ecologist, told Mongabay she was inspired to carry out a population assessment of the endangered golden-rumped elephant shrew(Rhynchocyon chrysopygus), also known as the sengi, after she heard that villagers in communities surrounding Arabuko Sokoke Forest Reserve ate them.
"I thought, 'Let me check and see what's happening now. Was the sengi going extinct?' I think curiosity was a major motivation."
To gather her data, Ondoro and her team spent three months in 2019 doing transects in the 40,000-hectare (99,000-acre) forest reserve to estimate the abundance of the sengis based on the number of nests they found. Sengis belong to an ancient African lineage whose members include hyraxes, aardvarks and elephants. They use their long snouts to rifle through leaf litter for insects and to scrape nests in the sandy soil which they then line and cover up with dry leaves.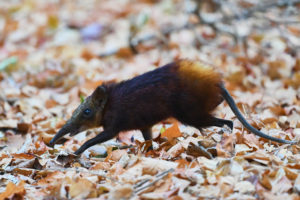 According to Ondoro's findings, published recently in the African Journal of Ecology, the population rose to 19,423 in 2019, from 12,750 in 2009. This represents an increase of more than 52%.
Previous studies had shown population declines of up to 30%.
"My expectation was that maybe the numbers would have reduced further," Ondoro said, citing the negative impacts of illegal hunting and firewood harvesting.
While Ondoro said the previous studies may have underestimated the abundance of the sengis by using narrower transects, she has an intriguing theory as to what may be driving an increase: the sengis' successful adaptation to human disturbance.
One of the transects she and her team did was in a plantation of exotic trees planted by the Kenya Forest Research Institute next to Arabuko Sokoke. The area had a high density of sengi nests.
Until now, 90% of the known sengi population was found within Arabuko Sokoke Forest Reserve, which is a mix of open- and closed-canopy woodland comprising native Brachystegia and Cynometra trees. The fact that sengis can make a home in a human-altered landscape of exotic trees and bamboo is a positive sign, Ondoro said.
"Even though there is disturbance, they are still able to thrive," she said.
The disturbances, however, are also occurring in the heart of the sengis' core habitat.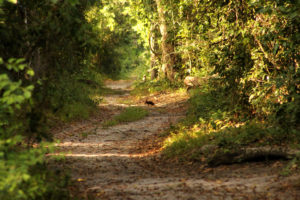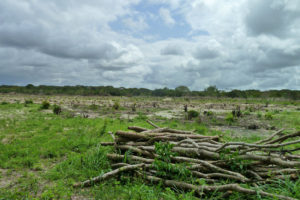 Francis Kagema, a regional manager with Nature Kenya, a conservation NGO, said disturbance surveys carried out within Arabuko Sokoke Forest Reserve in 2006, and again in 2017, showed that the number of tree cuttings and poaching incidents had increased significantly over that period.
Since those surveys were done, things have only gotten worse, he noted.
Nearly three years of drought have driven up food insecurity, increasing dependence on the forest by some people who raise money by illegally felling logs for home building or wood for charcoal burning.
Kagema also estimated that the forest currently contains up to 100,000 wire snares set to trap anything from sengis to buffaloes.
"The forest is in general decline, in terms of its ecological condition," Kagema said. "We would expect that to go in tandem with the reduction of many species in the forest."
The long-running drought in Kenya has, however, done something else, which might be aiding the sengis' recovery. It has led to extraordinarily high levels of leaf shedding. Sengis thrive in leaf litter: they build their nests from it and find their food in it.
"If every tree is shedding its leaves, we have a huge layer, which is habitat for this species," Kagema said. "Maybe it is being favored by climate change. You never know. These are things that need to be checked and researched, then we can confirm that."
Ondoro and her co-authors say they're hopeful the increase in sengi numbers may also reflect the gains made by conservation measures within the forest reserve, including a community-based conservation system known as participatory forest management (PFM) that has the support of NGOs and the government.
Under PFM, groups of people from surrounding communities are allowed to sustainably extract resources from the forest to supplement their livelihoods: there are groups dealing in firewood, those who farm butterflies, and others who nurture honey bees. Others collect material for basket weaving, or fodder for livestock.
Researcher Paul Matiku, who is also executive director of Nature Kenya, has published widely on the role of PFM in stemming biodiversity loss in the forest.
"Where PFM was implemented, the local people's attitudes changed from a case where they wanted the forest turned into farmland to wanting it being conserved," he told Mongabay.
"Areas where PFM was implemented had higher forest quality and forest specialist species."
One of those specialists is the East Coast akalat (Sheppardia gunningi sokokensis), a shy robin with a bright orange breast that is also an indicator species for forest health.
A paper Matiku published in 2011 showed that parts of the forest that were under PFM harbored a higher number of the birds, which prefer quiet, undisturbed areas with deep shade and thickets.
During her fieldwork to assess the sengi population, Ondoro personally witnessed the positive impact that these conservation efforts with their focus on supplying alternative livelihoods was having.
"Some of the research assistants who were helping me were also from the community," she said. "One of them said he used to do poaching within the forest. Now he's using his efforts to help students doing research because he understands the forest so well."
But Kagema, the Nature Kenya area manager who has spent nearly two decades working in and around Arabuko Sokoke, said he believes the pressures on the forest by an estimated 150,000 people who surround it are still too great.
He points to the harvesting of poles needed to build huts as just one example. The poles get devoured by termites and need to be replaced every two to four years.  That leads to the overharvesting of young trees that represent the future of the forest.
Kagema said he believes only better law enforcement against illegal timber harvesting and animal poaching can ensure the forest and its rich biodiversity survives, but added he's also willing to take some reassurance from signs of a sengi recovery.
"For now it gives us hope that some species have adapted to disturbance and are doing well," he said. "If we improve on protection, then the forest can be there forever."