By Mike Mande, Dar es Salaam
Tanzania is struggling to protect its game reserves and protected areas as residents close to the areas increasingly invade and destruct forest reserves and biodiversity. The armed invaders are violently attacking game wardens with guns and traditional weapons causing injuries, death and damage to properties found within the game reserves. "Recently, there have been various incidents of the local population living near protected areas attacking our soldiers and the Wildlife and Forest Conservation Force, while they were carrying out their legal duties.
These incidents have been repeated frequently in various places in the country and have often happened when the wildlife rangers are carrying out their protection duties such as seizure of cattle and arrest of poachers found inside protected areas against the law. These citizens have resorted to taking the law into their own hands," says the Minister for Natural Resources and Tourism, Ambassador Dr. Pindi Chana.
According to Dr. Chana when rangers seize the livestock or some citizens for illegal entry into the reserves and protected areas, the invaders organise themselves and attack the army rangers or their camps with various traditional weapons such as sticks, wires, swords, arrows; causing injuries or deaths as well as damaging Government properties including motor vehicles, camp equipment and other tools necessary for conservation activities.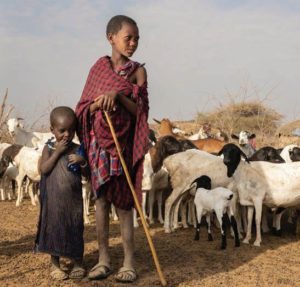 The Ministry is now taking measures to protect army rangers and calls on all those who take the law into their own hands by invading protected areas, injuring or killing conservation officers to stop such actions as it is against the Laws of the country. In Tanzania, the Ministry of Natural Resources and Tourism has been entrusted with managing and conserving natural resources, antiquities and tourism development and legally manages protected areas with a size of approximately 307,800 square kilometers equivalent to 32.5 percent of the country's total area.
These areas include 22 national reserves, the Ngorongoro Conservation Area, 22 reserve forests, 27 isolated forests, 38 community wildlife reserves among others. In June 2022, the government decided to start relocating citizens living close to the national parks, game reserves and protected areas, and prosecuting those found to break the wildlife Act and laws, to protect its lost biodiversity including those living in Ngorongoro Conservation Area (NCA. A total of 523 households with 2,808 people and 14,757 animals have moved to Msomera Village and other areas for protection since the exercise began in June 2022 until January 2023.
The Government says that it is taking these decisions because some people, including those living in Ngorongoro are unable to own land, build better and permanent housing and engage in developmental activities for the future of their families because it is contrary to the Conservation Law 'The citizens living in Ngorongoro have been facing many issues especially from 2015 to 2020 with approximately 50 people being killed by aggressive and destructive wildlife while 148 were injured." said Dr.Chana. The people who moved to the village of Msomera in Tanga region were compensated, given decent houses built by the government as well as presented with land title deeds and the social services that they missed when they were in Ngorongoro.
The people of Ngorongoro, especially children, for a long time lacked access to a good education, the right to live without fear and the right to play due to the fear of being attacked by fierce and destructive wildlife. Dr. Damas Ndumbaro, Minister for Constitutional Affairs said that according to the existing laws in Tanzania, no tribe owns the land of their ancestors, so the claim that the Maasai are being removed from the land of their ancestors has no basis. "Since the beginning of the exercise to voluntarily relocate the citizens, their rights as human beings have been considered to a large extent while dignity and respect were given priority by the government," he said. However, some international organisations are disputing the Tanzanian Government's move to relocate some residents from protected areas saying that the resettlement plans are critically flawed, and cause suffering to innocent citizens.
In January 2023, the Commissioner of the African Commission for Human Rights, Dr. Litha Ogana visited Tanzania to see if the exercise carried out by the army rangers were flawed or violated human rights. Dr. Ogana said that after visiting various game reserves, protected areas and Ngorongoro, her team found out that the whole process of moving them was collaborative. In Tanzania, the Wildlife Conservation Act of 2009, along with other laws governing protected areas, prohibit various issues from taking place within protected areas, including citizens entering these areas without permits, carrying out social activities such as farming, feeding animals, illegal hunting of wildlife and illegal harvesting of forest products.